Best Provided Hisun Motors Corp UTVs & ATVs
Do you love adventures, even the hardest? Is your vehicle equipped to tackle some of the world's most challenging terrain, including dunes, mud, and other obstacles? If you have no excellent vehicle, you are surely looking for a good partner, which may be side-by-side UTVs or ATVs.
But the market has a long list of brands, and they have launched a series of incredible vehicles. Isn't it challenging to find the best one that offers durability, efficiency, control, and a journey full of adventures? If this is the case, you are at the proper destination

4 Best Hisun Motors Corp UTVs & ATVs
Although we have a long list of UTVs and ATVs, all are extremely loved by the riders. Here you can read the details of the four best of them. So, let's see why you need one of them for future journeys.
In the strike category, we have two sports SXS; you can categorize them as budget-friendly and high-priced. But I don't think there is any difference in their quality, and you will find some additional features in the latter. Have a look at the characteristics they have.
Hisun Motors Corp Strike 250 vs Hisun Motors Corp Strike 550 R
We offer a budget-friendly option for all those who love to ride UTVs or ATVs but can't afford the pricey ones. The strike 250's sticker price is 7,199 USD which is pretty good as you find the other 2-seat vehicle at more than 20000 USD.
This SXS has a 4-Stroke Single Cylinder OHC with a 229cc cylinder volume.
The Strike 250 has a synthetic rope winch that can haul up to 2,500 pounds and comes equipped with a roof, windshield, and doors.
On the contrary, our strike 550 R is a bit costly because it has a 546cc cylinder volume and offers more features like 2 piece windshield, roof, and a winch that holds up to 3,500 pounds.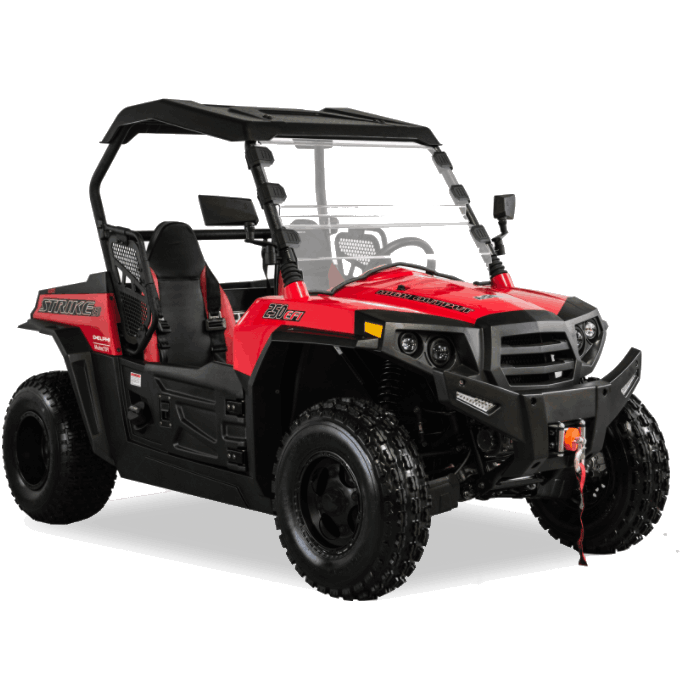 Strike 250 has an automatic CVT transmission with a 2-wheel drive; thus, it is more fuel efficient and lighter. If you want more control over the vehicle, choose the Strike 550 R that comes with 2wd and 4wd. It gives control and helps riders drive on new, less-than-perfect surfaces and in harsh weather conditions.
The wheels are of aluminum but with a change in the dimensions. The cargo bed capacity of strike 250 is 23 kg, and the other is 159 kg. The same goes for fuel capacity, the former has only 13 liters, and the latter has 28 liters.
Both strike vehicles have a capacity of 2 people, brakes, light, horns, and availability in three colors. If you want to ride with friends and family, choose the Sector 750 crew.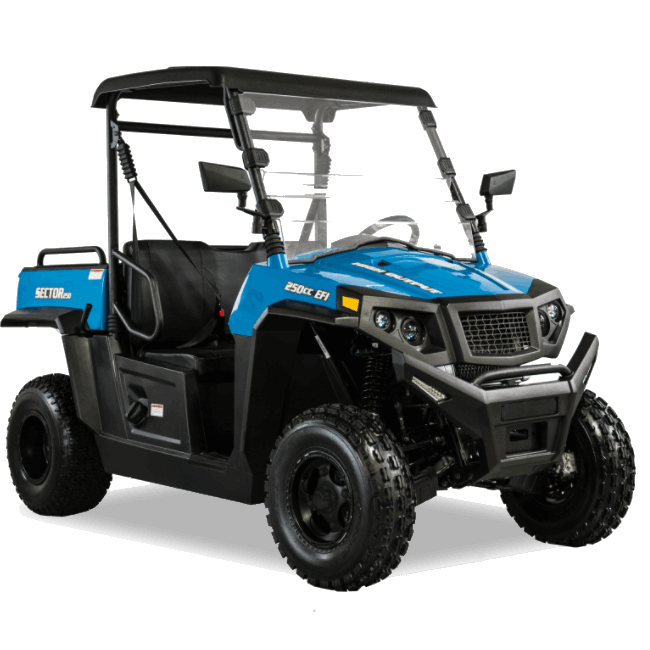 We offer the most variety in the sector series; here, you get 5 options; choose which suits you most.
Hisun Motors Corp Sector 250
This SXS comes with a 4-Stroke – OHV Single Cylinder Engine with 229cc volume. It has Low – High gears, an Independent Dual A-Arm front, and Swing A-Arm rare suspension. It has a 2-wheel drive system. Moreover, it has a roof, turn signals, windshield, and winch that can haul up to 2,500 pounds.
Hisun Motors Corp Sector 550 EPS
Put your trust and confidence in a full-size side-by-side vehicle. The Sector 550 was designed to bring you to your destination swiftly and in as much luxury. It features a 546cc 4-Stroke Single Cylinder OHC engine. Its Automatic CVT L/H/N/R transmission with 2 and 4-wheel drive system gives you the ultimate control. At the same time, 12-inch ground clearance saves you on the worst roads and off-road.
Hisun Motors Corp Sector 750 EPS
This Sector's 735cc 4-Stroke EFI Engine provides enough power to overcome any obstacle. This vehicle comes equipped with a 3500 lb. standard winch, 4-Wheel Drive with Electronic Power Steering (EPS), Locking Differentials, Dual A-Arm Nitrogen Assisted Shocks, and other features that will give you the confidence to blaze new trails or tackle the most challenging jobs.
Hisun Motors Corp Sector 750 CREW
This Sector breaks the rules by offering the vehicle for a group of 4 friends or a small family. It has a 735cc 4-Stroke Single Cylinder OHC engine and a 2wd and 4 wd system perfect for controlling like a pro on an off-road journey. It features a 2 piece windshield, roof, lights, horns, and 3,500 LBS winch. Enjoy the trip with your loved ones, whether using your Sector for business or pleasure, since it's ready for everything.
Hisun Motors Corp Sector E1
This one comes for professional performance. Its engine type is AC Induction and has a Deep Cycle Battery with 2080 Amp/Hour and 220 torque. Its 4-wheel drive system gives you complete control. It has a two-piece windshield, lights, a roof, breaks, horns, and a winch that can lift 3,500 pounds.
Hisun Motors Corp Electric
The driving system uses a 48-volt, 27-horsepower AC motor, quieter than a gas-powered engine but strong enough to overcome the most challenging terrain. Thanks to the Nitrogen-Assisted Independent Suspension and the Four-Wheel Hydraulic Brakes, you will have complete command of the situation. Constructed so that it can maintain its stability while yet performing well.
With 2wd and 4wd drive systems, 11-inch ground clearance, and 26 x 9-14 big aluminium tires, you will achieve efficiency with complete control; thus, it makes your journey more entertaining. We added a 3,500 LBS winch, roof, 2-piece windshield, break and headlights, horns, and signals. It also accommodates 2 people with a 159 kg cargo capacity.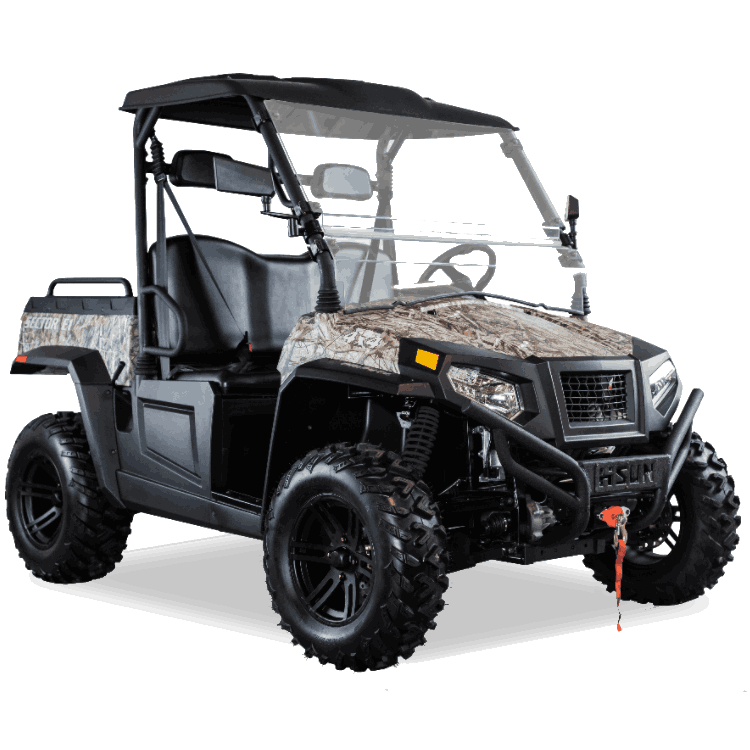 Hisun Motors Corp Tactic
Our tactic series contains 2 SXS, both offer efficiency and outstanding performance.
Tactic 550 EPS-2UP (price $9,999)
Tactic 750 EPS-2UP (price $12, 299)
You will have the capacity to tackle even the most challenging terrain with the full-size Tactic 550 2-Up, which comes standard with a 4-Stroke OHV 546cc Single Cylinder EFI Engine and 4-Wheel drive as standard equipment. The Dual A-Arm Nitrogen Assisted Shocks found on the Tactic 550 provide the vehicle with a ride that is both comfortable and unforgettable. Your off-road journey will go more smoothly if you choose the Tactic as your vehicle since it has cargo racks both in the front and back and a winch that can haul up to 2500 pounds.
Powered by a 4-Stroke Overhead Valve Single Cylinder 735cc Engine with Electronic Fuel Injection, the Tactic 750 2-Up provides more than enough propulsion capabilities. You have complete control thanks to the two- and four-wheel drive system and the dual A-arm nitrogen-assisted shocks. With 17 litter fuel capacity, it can allow 2 persons to ride together. The 11-inch ground clearance will help with driving on bad roads also.
Takeaway
We are dedicated to providing a broad array of ATVs and UTVs that are differentiated by their adaptability to various terrains and unique personalities. This is part of our effort to meet and surpass the standards established for the industry. Our objective is to provide fans in every region of the world with brand-new, innovative, and high-quality products.
And I hope you better understand which UTVs or ATVs are more suitable for you. Although they are still durable, you will get a 2 years warranty. Moreover, you have a chance to customize your vehicle by yourself; isn't it a great thing?
1011 57 Ave NE Bay 95, Calgary, AB T2E 8X9